FSA 56 tool only COMPACT Cordless grass trimmer FSA 56 tool only COMPACT Cordless grass trimmer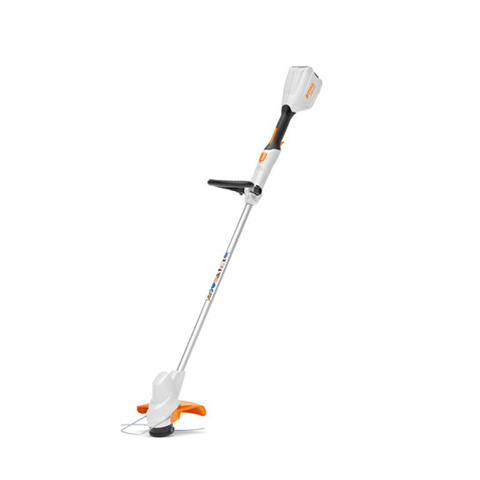 FSA 56 tool only COMPACT Cordless grass trimmer FSA 56 tool only COMPACT Cordless grass trimmer
Feature packed and simple to use, the FSA 56 is perfect for trimming jobs around medium to large lawns. The light tool weight and adjustable shaft is great for users of all sizes and makes grass trimming even more comfortable. Quiet cordless technology boasts impressive performance, even when faced with those tougher jobs.
Soft grip with control lever
The soft handle grip allows for better control and secure a grip in all conditions.
Loop handle
The loop handle angle can be easily adjusted without using tools. It is great for working in confined spaces and for trimming jobs between bushes and shrubs.
Quiet technology
The STIHL Compact Cordless System tools are so quiet you don't even need to wear ear protection.
Length-adjustable shaft
With its flexible handles and variable shaft length, the perfectly balanced FSA 56 can be ideally adapted to your specific way of working.
Neutral locking position
The battery can be inserted into the tool in 2 stages. In the first neutral position, the battery is secured in the tool but does not connect with the contacts, allowing for safe transport. In the second operating position, the battery is completely inserted allowing for full operation of the tool.